Seller Services
With managers seasoned in the corporate world and many years of experience in the industry, Graybar Group understands that you worked hard to get your company where it is today.
If you've never sold a company before, you probably feel an emotional reluctance to sell. And although you know you might have to go through the process one day, you may not see the reason as to why you would start that process today. The truth is that you must overcome this resistance and prepare your company. Why? Because your lack of initiative today can translate into lost opportunities tomorrow.
Here are just a few factors that motivate people to sell every day:
Personal issues: deteriorating health, divorce
Lack of successor
Need for additional capital to finance growth
Weak or declining performance
Market conditions that create strong price and need for their products/services
Whether you're thinking about now or the future, it is never too early to prepare your company for sale. Now is also the time to address financial and non-financial issues that could affect your sale and to also be aware that timing is essential for a successful transaction.
As a seller, getting an accurate range of values for your business and a suggested listing price is a crucial step toward ensuring an equitable merger and acquisition transaction. It also ensures a shorter negotiation period.
Determining the fair market value of your business is an intricate process that includes the analysis of numerous variables. Graybar Group can provide you with a no-cost, no-obligation snapshot value assessment of your business NOW.
Fill out the form below and we will call you to discuss the financial data and provide you with a range of values for your business.
All the information you provide is used only by Graybar Group, LLC. and your confidentiality is guaranteed.
Deal Process
Selling your business in an optimal amount of time, at a fair price and with minimal risks (eg. tax, legal) requires a strict methodology. It also requires a trustworthy advisor whose priority is your long term well being. Our team of professionals will take time to understand your unique requirements as an individual and your business as a whole.
This is what to expect from us:
We provide advice on the overall approach to the transaction. That includes choosing appropriate advisors, teaching negotiation tactics and a providing a snapshot value assessment of your business.
We utilize multi-channel marketing and global reach in both traditional and new channels to ensure wide exposure. All the while, we will maintain your confidentiality.
We coordinate a team that includes lawyers, CPAs and other advisors.
We coordinate the flow of documents.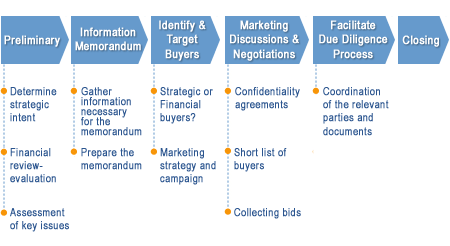 We perform an Assessment of the Company Value as well as your life goals and immediate priorities.
As timing is an important factor, we decide if "now" is the best time for a transaction or if waiting could place your company in better condition for transfer.
We assess the key financial and non-financial issues and refer you to professionals who can help you.
We develop a marketing strategy appropriate for your particular situation.
A Confidential Memorandum, a website, and other marketing materials are prepared by us for your company. We implement the marketing campaign and results are consistently discussed with your team.
We identify the best buyer (financial, strategic) after interested potential buyers are evaluated and a Non Disclosure Agreement is signed with each party.
Constant communication, additional information requests and meetings are coordinated with potential buyers and your team.
We facilitate and advise during the negotiation process.
We work with the buyer and its team to prepare a Letter of Intent that contains the deal's terms.
We ensure the buyer's team has all the information necessary for the due diligence process and that the legal teams proceed on schedule with the preparation of legal documents.
We participate at the closing.